May 21 - June 20
The easygoing sign of the Twins lives for variety, the true spice of life. You versatile creatures represent duality and acceptance above all else, understanding deeply that each coin is made up of two very different sides. Ruled by communicative Mercury, you have an in-born talent for talking yourself into or out of any situation, plus a sharp wit that draws in a social circle twice the size of your average Joe.
Fast Facts:
Element: Air
Glyph:
Colors:
Quality: Mutable
Ruling House: 3rd - Communication
Ruling Planet: Mercury
Tarot Card: The Lovers
Learn about another sign:
Gemini Compatibility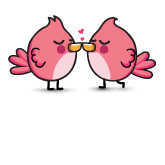 Headed for Love?
Will your new romance fizzle ... or sizzle? See how much of a match you really make with our FREE Love Meter! You may be surprised at the results (wink, wink).
Check the compatibility for: