February 19 - March 20
The spiritual sign of the Fish prefers its disconnected dream world over the cold grips of reality. Much like one single Fish in a large school of swimmers, emotional Pisces understands that the masses are made up of many individuals. While your emphasis on intuition and imagination can create a beautifully open mind, removing yourself so far from the real world can also backfire -- for the subconscious offers little structure and one can easily lose direction.
Fast Facts:
Element: Water
Glyph:
Colors:
Quality: Mutable
Ruling House: 12th - Subconscious
Ruling Planet: Neptune
Tarot Card: The Moon
Learn about another sign:
Pisces Compatibility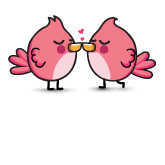 Headed for Love?
Will your new romance fizzle ... or sizzle? See how much of a match you really make with our FREE Love Meter! You may be surprised at the results (wink, wink).
Check the compatibility for: